Financial Consolidation und Fast Close
We specialize in helping our customers design, plan, implement, support and optimize their systems and business processes. As an independent consulting firm in the area of financial consolidation, corporate planning and reporting (IBCS), we offer our clients the best consulting service across all areas of their financial process.
In doing so, we are pursuing an important goal:
Customer satisfaction
Our customers' employees are always at the center of everything we do. Because even with IT solutions, people form the basis for project success.
We therefore focus not only on a single implementation project, but on a long-term relationship with our customers and trust their recommendations for our services.
As an implementation partner, we have in-depth knowledge of the leading CPM / EPM systems combined with extensive expertise in local and international accounting standards.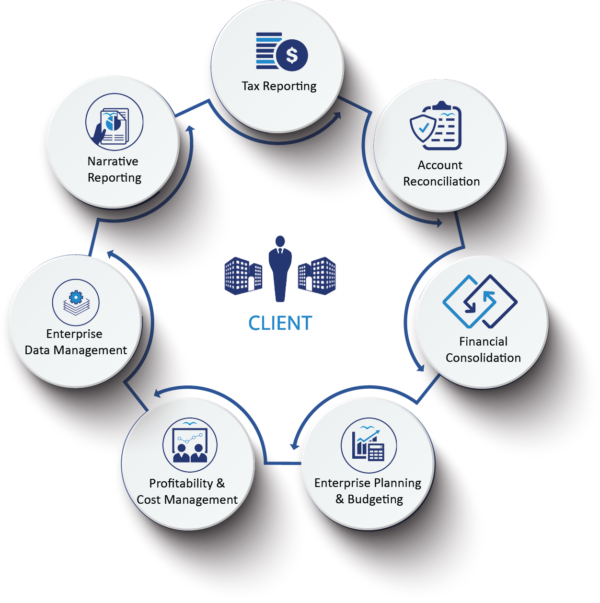 Advice on financial consolidation and the closing process
Best advice in all areas…
For the implementation of our software in the area of financial consolidation, our proven solution approaches for the following modules are discussed in the design phase and adapted to the individual needs of the respective customer:
CoA (Chart of Accounts) incl. technical accounts
HGB, Single GAAP or Multi GAAP (e.g. Local GAAP according to IFRS bridge)
Notes data
Other information on controlling
Calculations (data transfer to ensure "no duplicate entries" and simple input forms).
Key Performance Indicators (KPI) and Key Figures
Calculations of taxes and deferred taxes
Intercompany matching
Unrealized profit entry
Currency conversion
Automation of capital eliminations
IC-Profit Elimination
Deferred tax effects on elimination
Customize input forms and administration grids
Customizing SmartView and PDF reports
Special reporting requirements (e.g. XBRL, IBCS)
Simulations (e.g. actual exchange rates at planned exchange rates)
Master Data Management and Data Integration
…and more
Our experience in financial consolidation allows us to do more than just standard implementations:
System architecture and design
Evaluation of the best possible solution
Implementation and enhancement of the selected solution
Support with your daily business
Software enhancements and optimizations
Customized trainings
Roll-out Support
Backup concepts (for cloud and on-premises solutions)
Full Service Hosting



Development of customized solutions (e.g. EPM Viewer, IBCS Starter kit)
Expert advice in the area of financial consolidation


We look forward to hearing from you!